ARTWORKS by BARTEAUX
"MILLARD VANCE BARTEAUX," IS A CANADIAN ARTIST AND AUTHOR"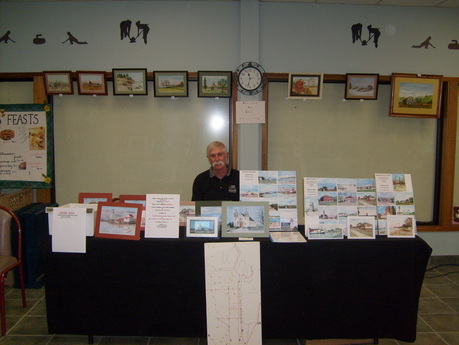 Millard ( AKA Bart) Barteaux was born & raised in Advocate Harbour Nova Scotia Canada in 1938. His parents were lighthouse keepers. Most of his early years were spent out on Cape d'Or Lighthouse & Alarm.The Royal Canadian Air Force brought him to Gimli Manitoba in 1960 where he still resides. He started painting watercolours in his mid thirties & still enjoys the craft. He hopes you will explore his paintings or art cards & download his book, "OUR LIGHTHOUSE LIFETIME."




---
LISTED BELOW IS WHAT YOU WILL FIND ON THIS WEB SITE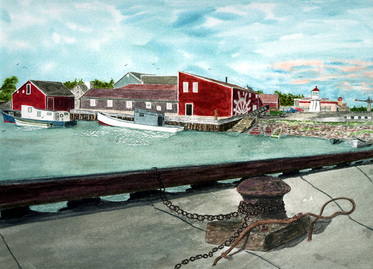 ART CARDS Gimli Harbour 1985 Manitoba Canada
ART CARDS - GIMLI & WINNIPEG BEACH MANITOBA
If you are from Manitoba Canada's Interlake region or have been here in Gimli with CN Rail or the RCAF you will recognize many of these scenes of the past and present.These folded cards are blank inside so you can add your own personal greeting or message.
Gimli has 12 cards and Winnipeg beach has 8. Order 3, 6 or the complete set. Envelopes are included. You can also order 8"x10" prints for frameing.
---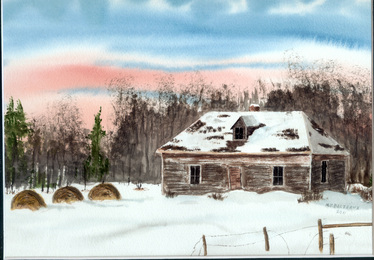 ABANDONED HOMESTEAD Near Fraserwood Manitoba
A GALLERY OF WATERCOLOUR PAINTINGS FROM MANITOBA.
Countryside scenes of heritage buildings, barns, and landscapes.
Mr. Barteaux has captured the essence of rural Manitoba's Interlake and Lake Winnipeg. Order a print.
---

Advocate Harbour Nova Scotia, with the tide in.
A GALLERY OF WATERCOLOURS FROM "ADVOCATE " N.S
Our painter grew up in Advocate Harbour & Cape d'Or Lighthouse
& has captured many the areas beautiful vista's. The highest rise & fall of tides in the world occur in the Bay of Fundy. Come see what being a "Down Homer." is like.
---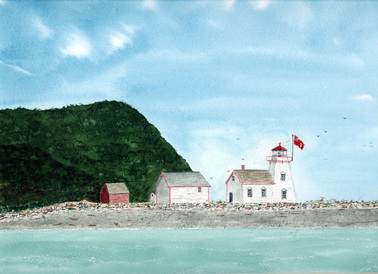 LIGHTHOUSES Advocate Harbour Nova Scotia (Destroyed)
A GALLERY OF WATERCOLOUR PAINTINGS. The LIGHTHOUSES,
of "Cumberland County Nova Scotia" and "Manitoba Canada."
Millard was raised on "Cape d'Or Light and Alarm" in Nova Scotia.
Order a print.
---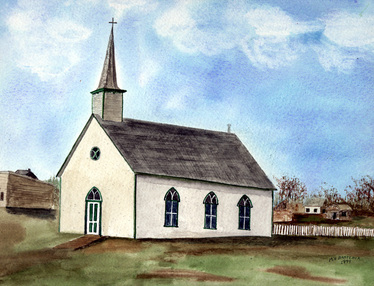 Gimli Lutheran 1899 Now gone
THE CHURCHES OF "MANITOBA'S" INTERLAKE DISTRICT.
Millard Barteaux, over 20 years, has painted over 220 Churches, from Winnipeg to the northern Interlake and in between Lake's Manitoba & Winnipeg. Many of them are not being used or are gone. As a memorial the people who built them, he found old photo's and brought them back to our world in watercolours. Have a look, you might just find your family church somewhere in the gallery. Order a print.
---
THE CHURCHES OF THE PARRSBORO SHORE I have added the fifteen Cumberland County Churches along highway 209 where I grew up in Nova Scotia.To see them click on the "Churches" tab at the top of this page.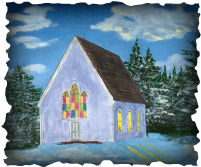 ---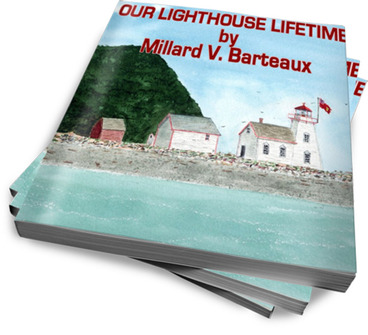 LIGHTHOUSE BOOK
"OUR LIGHTHOUSE LIFETIME" By Millard Vance Barteaux.
An EBOOK from Amazon's Kindle, weaving a lifetime of events over five decades in lighthouses on the Bay of Fundy. Millard tells how Vance & Sina raised seven children on these lonely sentinals of the sea. He describes the physical, mental, serious, and humorous facets of lighthouse life on the "Advocate Harbour" and "Cape d'Or" light stations. Download to, Ipad, Iphone, Mac, PC, Blackberry or Kindle.
---